Alternator
Jump to navigation
Jump to search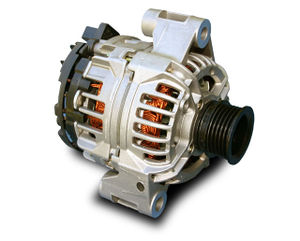 Alternator
Please add your Info, Just click EDIT
Alternator replacement
Please add your Info, Just click EDIT
Alternator belt
You can change the alternator belt by taking off the rear drivers side wheel and plastic inner arch mud guard. Removing the undertray will give no advantage. You will just need a good socket set.
Loosen 'A' pivot bolt and 'B' tensioner bolt, to allow the alternator to 'swing'.
'C' on the diagram is the tensioner of the belt, loosen this to remove the belt. The tensioner bolt is the 8mm bolt on the end of the arm. It slots into the end of the arm and allows the adjustment. Difficult to see when peering in, but easy enough to locate.
Tension belt to the following on S2: For heater cars - one way deflection of 6-8mm under moderate finger pressure For AC cars - as previous but 9-10mm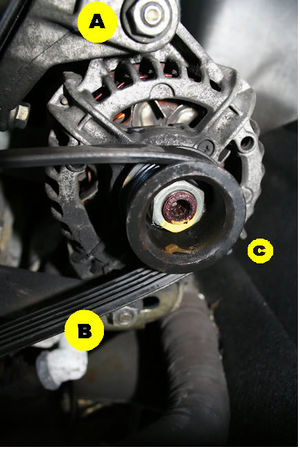 Removal of Alternator This is same as above but in addition you need to remove the 2No. cables; one is bolted on to the rear of the alternator using a 13mm nut, the other is a clip-on connector. Before removing the nut and cables, disconnect the battery.

Please add your Info, Just click EDIT
Alternator Heat Protection
Please add your Info, Just click EDIT
Sourcing Replacement
It is not recommended to purchase Chinese manufactured pattern replacement alternators for the Elise, such as those commonly advertised on ebay. They are not built to withstand sustained high revs and are guaranteed to fail prematurely. These include:
Known good models include:
Magneti Marelli (63321239)
Bosch - OE part