Brake pads
Jump to navigation
Jump to search
The OEM Brake pads on the Elise are reasonably expensive and generally not highly regarded. There are many after market products to choose from with superior performance, both in terms of stopping power and longevity, and at a more reasonable costs.
Changing brake pads is an easy and rewarding DIY project, and some people prefer the reassurance this gives. There is a Brake pad bedding in procedure which you are encouraged to following after fitting new pads.
Early S1 Elises with MMC discs MUST use MMC specific pads, if other pads are used you will ruin the discs very quickly and also risk a dangerous brake failure.
Brake pad fitment for the Elise is as follows:-

Below is a list of after market manufacturers with descriptions, and real world experiences, from SELOC members.
Borg&Beck
In 2000 mainstream Automotive Products was broken up and sold, a new, smaller company was created - AP Racing. Specialised in high performance brake and clutch systems for motorsports applications. This company has since been purchased by Brembo S.p.A., but is still run as a separate entity. You can still buy Elise/Exige brake pads and clutches branded with Borg&Beck.
http://www.firstline.co.uk/borgandbeck/index.php
Brembo HP sport (HP2000)
New brake pad available at Eliseparts shop. user information required
From Brembo Website (the usual blabla over high friction/low fade@high temp/low dust/no asbestos/low wear):
Tested to the highest levels on the track with decelerations from 270kph (168mph) the HP2000 material is capable of operating in the most demanding conditions.
With excellent cold performance & bite, high resistance to fade, frictional stability throughout all operating conditions, reduced pad & disc wear and low dust levels, the all new HP2000 friction material offers significant advantages over its rivals. Designed to be a direct replacement for the Original Equipment (OE) pads the Brembo sport pad comes with the exact same specification as the OE pad including (where applicable): fitted wear leads, slots for separate wear leads and anti-rattle clips with the added benefit of anti-noise shims on every pad.
Combine all of this with competitive pricing and UNECE R90 approval across the full range (making them street legal) and you get a true high performance brake pad fit for the road.
Carbone Lorraine
RC5+, RC6, RC8
Sintered brake pads from French manufacturer who started out as a motorbike brake manufacturer, but also does the brake pads for the TGV and works rally teams from Peugeot, etc.
RC5+ pads have the lowest friction index (approx 0.48)
RC6 is medium (0.55)
RC8 is high (>0.6)
RC8 probably has a friction index that is too high for a light car like the Elise and locks up too quickly or gives too little control over brake modulation. RC8 is only available as a rear pad.
RC6 and RC5+ are more useful.
For Elise specific pads:
Front pad type code: 4060
Rear pad type code: 4115

As delivered the pads for 4 pot callipers may be too thick and require some grinding of the friction material (about 1mm) to fit properly on new discs.
With standard callipers they are a straight fit but you MUST fit the small square anti rattle rubber buffers directly to the calliper or suffer very annoying rattling from the n/s/f disc.
These pads give a very consistent pedal feel and show little or no variation in retardation if temperatures go up. Fading because of pad material breakdown is virtually impossible as sintered material does not break down until >1100C and by that time your brake fluid will have started to boil.
See the following thread for some concerns:
EBC
We fit 100's of EBC Greens & have had no reported failures or catching fire. However, with any pads it is very important to bed them in properly & we supply a hanger on every car that goes out explaining this. Edited by Sinclaire 20/05/09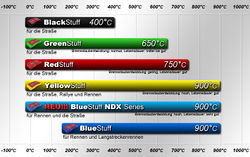 Ultimax/Blackstuff: no information found on use with Lotus. They are cheap, have the lowest temperature capacity and surely won't stand up to track use
Green: Not recommended for track use but comparable with OEM pads for both stopping power and wear
Redstuff: low dust, high temp pad. Designed for large vehicles or high performance vehicles
Yellow: New compound getting a good write-up for track use, possible alternative to Pagids at half the price
Bluestuff NDX: NDX is for street use. Non-NXD is an endurance race pad (not street legal).
Orangestuff: New pad. Track use only (not street legal). Designed to slow down car and not stop it.



One of the [comments] about EBC from forum from a user (Simon S) that has used a lot of brake pads:
EBC *anything* are just shite cheap crap, Greens are IMHO dangerous for anything other than light road use, Reds are not much better, and don't work well when pushed hard (as in overheat and break up), Yellows are rock hard and just do not offer the same level of retardation and pedal feel the OEM pads to when push come to shove... they also crumble when really pushed (and I had them actually catch fire!).
Ferodo
DS2500
Similar performance to Mintex 1144 but longer lasting. Common replacement pad in mainland Europe
DS3000
Race pad. Very grabby, no pedal feel, non-linear
Hawk
According to their catalogue they only produce brake pads/discs for Lotus Elise 2005.
HB180.560 Front brake pads
B278x.465 Rear brake pads
Direct link to catalogue: http://www.hawkperformance.com/docs/catalog-current.pdf
Mintex
1144
Excellent value for fast road and occasional track. Quick to bed in and work well from cold. Good pad life and not particularly abrasive on disks, although can be a bit dusty. Some fade experienced after pro-longed track use. Squeal can be a problem when the pads are hot, but a hefty dollop of coppaslip on the back of the pads should help.
Can overheat on tracks that need heavy braking and not much opportunity for cooling (e.g. Brands Indy), leading to a "gravelly" feel after a few laps.
Mintex variations
Be aware that there has been some confusion over which pads are 1144's. The part number for Mintex Pads for the Elise are MDB1890 and MDB1891 (Front and Rear), there are then compound types of which 1144 is one. These are the variations;
1109 - Standard Road Use - Not suitable for the track - These are normally found in motorfactors or ebay for £25 per axel and sometimes mis-sold as 1144's.
1144 - Fast Road / Normal Track Use - Cira £60 per axel, will be marked C-Type on the box.
1155 - Hard Track use only - harder compound and will lose out on feel and progression
The code will be on the back of the pad.
OMP
Road&Sport
OT/7951 Front pads
OT/7954 Rear pads
http://www.ompracing.it/prodotti.html?categorycode=GPASTIGLIE1&changelanguage=en
OMP Road&Sport brake pads have been developed to offer excellent performance in fast road use.
Excellent stability of the friction coefficient, even at the highest temperature (see graph).
This compound is the result of 30 years experience in rallies and track racers.
For the new car models manufactured from 10/1999 the pads are homologated according to R-90 rules.
Racing
OT/6951 Front pads
OT/6952 Rear pads

http://www.ompracing.it/prodotti.html?categorycode=GPASTIGLIE&changelanguage=en
971C RACING COMPOUND OMP 971C range of brake pads is made from a new friction material, asbestos free, having following characteristics:
COMPOSITION: thermosetting resins with the addition of special carbon materials.
FRICTION COEFFICIENT: very high (0.48).
FRICTION STABILITY: uniform also during varying of the temperature in a field between 100 and 800° C (see graph).
ANTI-FADING PROPERTIES: excellent
MECHANICAL RESISTANCE: very high also thanks to the special structure formed by the substances present in the compound.
TOP LEVEL PERFORMANCES in professional use (Rally, Group N).
Pads have good initial bite from cold and cope well with track use.
Could do with a little more feedback under hard braking, but don't show any signs of fading.
Like many track-oriented pads they can squeal/screech quite a bit on the street.
Low disc wear.
Pagid
Racing Compound Characteristics
RS 4-2 Blue
A medium friction racing compound with good cold friction and fading resistance up to 500°C ( 930°F).
Work well from cold.
Under very hard use they will fade before the RS14 compound.
less prone to squeal than RS14's
Summary, A good compromise for both Road and Track usage. Can be noisy with some disc combo's.
Fronts are lasting around 10 hard track days (20 hours) rears are lasting 40 track hard days (80 hours).
RS 14 Black
This is a medium high friction value ceramic type compound with very good modulation, high fade resistance, low heat conductivity, and a good wear rate up to a temperature of 650°C (1.200°F).
If used as a road pad they can eat discs, however when at track temperature the wear ratio will be higher in the pad providing less wear of the disk.
Not as effective from cold as the RS 4-2 compound.
Very track orientated pad so whilst safe to use on the road a driver with a road only intention may well be better to look at a different compound.
These pads can generate a lot of squeal if not used in anger on a regular basis, so while highly rated for track work, these pads are perhaps too compromised for a road car. Incompatible with a lot of discs so check compatibility before buying.
RS 15 Grey
Very high torque compound. It combines a 20% higher friction value than the RS14 with a slightly increased pad wear. Needs finesse to avoid over braking the car. Good release characteristic. Although the RS15 has a very good modulation (controllability) it might have an excessive bite for some applications, as lightweight cars or cars with boosted brakes. Applications: NASCAR, CART, F3, Touring cars, GT cars, WSC, DP, Trans Am and Rally.
Performance Friction
New brake pad available at Eliseparts shop.
Below information is from manufacturer and other websites. user information required
81
Low Grip Asphalt and Dirt Track applications Replacing the perennial favourite 80 compound, 81 offers smooth and stable high temperature torque with excellent cold bite for the dirt and asphalt racers that demand race ready friction. 81 compound also offers quicker release for unrivaled modulation with low wear and excellent disc conditioning properties.
01
01 is one of the most popular race compounds in the PFC's arsenal. Slightly higher bite and torque for the first 2/3's of the stop than 83 compound. At the end of the stop, 01 compound has less torque scatter for improved modulation with excellent release and a flat torque curve. 01 compound is very easy on the discs with very low wear, on par with 83 compounds.
08
08 compound is one of PFC newest and have gained immediate favor in Endurance Sportscar, and GT racing due to its performance in applications where smooth initial bite is a must. 08 have a slight friction rise with temperature, excellent release and modulation characteristics, and very low abraded disc wear. In addition to its considerable performance, 08 wears the longest of all PFC pads and easily matches wear of the other competitors with much higher bite.

note: Added section below because this compound is mentioned. 83 Compound is replaced by the 81 compound.

83
Recommended for high grip and severe duty applications. This is the compound that has won more championships since it's debut than all others. It is a perenniel workhorse in NASCAR. When it comes to slowing down under the most severe conditions, 83 compound has a tremendous history of success. Higher bite than 80 compound, with a rising torque curve to handle the most extreme conditions, along with low wear. 01, 03 and 05 compounds are steadily replacing 83 compound in most applications. It is still available in many applications and remains a viable choice nearly 20 years after being released.
Manufacturer website: http://www.performancefriction.com
SBS
Scandinavian Brake Systems. Not have the feel of Pagid but perfectly decent. High performance low cost.
ProTrack
Steady, all round carbon ceramic race compound. Ideal for track days, standard car racing etc.
Disc temperatures up to 700°C.
Front: 3017.CC.TH14.3
Rear: 3101.CC.

ProRace
The professional Dual Carbon race compound for racing at highest level. Stable and consistent brake performance round after round. Extremely high thermal stability.
Disc temperatures up to 800°C.
Textar
R90 Road pads
Pure road pads which should be similar (and possibly identical) to Lotus OEM brake pads.
Additional information: OEM are Textar pads with a Brembo/AP logo printed on them. The Textar logo can be seen engraved in the backing plate.
Part numbers:
Front: 2032306 (EAN-number: 4019722256141)
Rear: 2041003 (EAN-number: 4019722256172)