CAT replacement pipe
Jump to navigation
Jump to search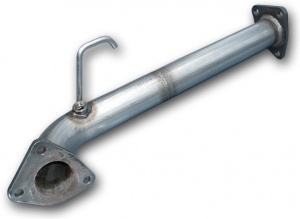 A Cat Replacement Pipe, or CRP, is a device used to replace the Catalytic converter on an internal combustion engine. Somethimes refered to as a de-cat pipe or decat or straight catpipe, it's nothing more than a straight through piece of tubing!
Alternatives to this are a SCRP or Sports CAT.

Noise
Large increase in noise, pops & bangs on overrun.
Annoys the neighbours!
Performance
About a 3BHP/2,7NM gain att peak on the non-VVC engine(stock). Weight saving is about 2,5kg
MOT & Legality & Insurance
It is illegal to use your car on the road without a CAT and not just because of the emissons. This may cause you a problem in the event of an insurance claim. The procedure to change your CRP is quite simple.
111S & VVC Engine
All tuning is a case of balance and this is still the case with exhaust systems. Some engines require some back pressure and the system may have been tuned with it in mind so a Motor sport version maybe more favourable than removing it completely as seems to be the case on the VVC engine.
Some further reading and testing on similar engine configurations can be found on this MGF owners site.