Front splitter
Jump to navigation
Jump to search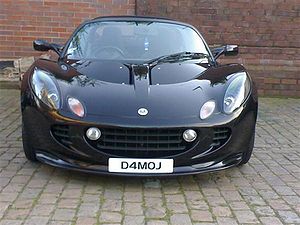 In its most basic form a splitter is a horizontal extension of the lower front edge of the car protruding forwards into the airflow. Although this looks simple, it is a very efficient way to generate downforce at the front of the car.
As a car passes though the air, an area of high pressure builds up along its relatively flat leading surfaces (think of the force which pushes on your hand if you hold it out of the car window). Usually this air flows either under the car or around and over the bodywork. A splitter taps this area of high pressure by providing an additional surface for it to act on. As well as pushing back on the front of the car, the high pressure pushes down on the top surface of the splitter creating downforce.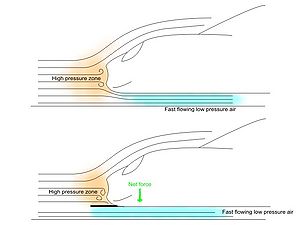 I hit almost every speed bump with it at standard ride height, but the roads near me are terrible, so no fault of the splitter. If you are running a lowered ride height - as I am doing now, it will further lower the front by nearly 20 mm in real terms. Looks cool though and is very similar to the reverie one only fibreglass and much better value.
On the Elise expect around a 10/15 mm drop in clearance.
40Kg downforce at 100mph.
It is possible to fit a front splitter yourself.
Damage concealer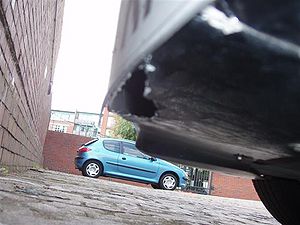 Another application for the front splitter is to conceal damaged front clamshells. It is far easier to have one of these install than pay for a fix/respray at your local specialist.

Suppliers
Tigga!
Fellow SELOC member Tigga! supplies a splitter for the Elise S2.
Alvans
Alvan Motors make a splitter for the S2 which does not reduce the overall ground clearence.
Eliseparts
Reverie
Elise Shop
Lotus Power