Indicator stalk
Jump to navigation
Jump to search
The indicators taken from the Vauxhall/Opel parts bin eventually give up the ghost. This is first shown when the full beam flash function refuses to work.
The replacement part is Vauxhall/Opel No 9181010 and can be got form any Vauxhall/Opel dealer, although at around £40 plus VAT it's cheaper to buy a new non OEM part for less than £15 on the web or ebay. The part number for the indicator stalk with the cruise control switch (S2 and S3) is 9181011.
I was able to obtain the OEM (Bilstein from Germany) part in July 2014 from www.VauxhallWorldParts.com for £16, inc VAT & UK postage. The part is the same for both the S1 and S2.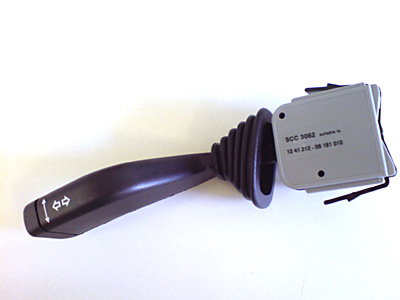 Aftermarket part
---

Firstly you need to remove the cowling around the steering wheel.
You might want to clean up a little in here, the picture shows nearly 8 years or crud.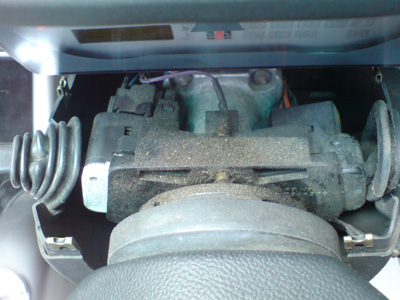 Once the cowling is off the indicator stalk can be slid away from the housing by pinching the clips on the top and bottom of the unit.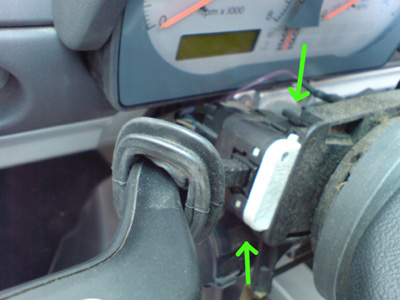 The cables can be prized off the rear, usually in two culsters, again press the clips to ease them out.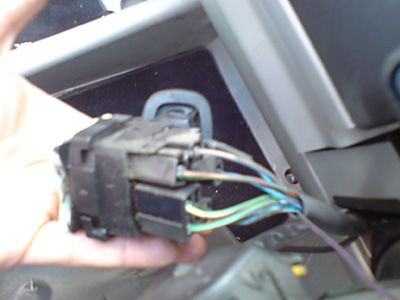 Plug the cables in the new unit and slide home into the housing.
TEST IT WORKS.
If all is working refit the cowling.
Job done.