Models - Evora
Jump to navigation
Jump to search
Pre-launch
Known as Project Eagle during its development the Evora is Lotus's first ever mid-engined 2+2, although the default configuration is actually the "+0", with the rear seats an optional extra.
In the run up to it's launch Lotus carried out a promotion campaign promising "True Character in a Faceless World", which included people with blank face masks appearing at Wimbledon, the Henley regatta and Elton John's white tie and tiara ball.1
This promotion lead to the website http://www.facelesspeople.com, which featured nothing but a countdown to the cars launch and a link back to the Group Lotus website. Since the launch this site has been removed and is no longer available.
The unveiling of the Evora on the 22nd of July at the 2008 British International Motor Show2 marked Lotus's first all-new car since the Elise in 1995. Although Lotus had produced models such as the Exige, Series 2 Elise and Europa in the interim period these were still fundamentally based on the original Elise platform.
As with the 'Federal' Elise the Lotus Evora was designed with international sales in mind, in particular the lucrative US market. This was deemed vital to help Lotus reach a wider audience of more affluent buyers, with the Evora looking to compete against a far wider range of cars than the Elise's niche appeal.
Parallels could certainly be drawn between the Evora launch and that of the original Elite and Esprit, with Lotus looking to produce cars that would push up market and could command higher pricing and, hopefully, profit margins...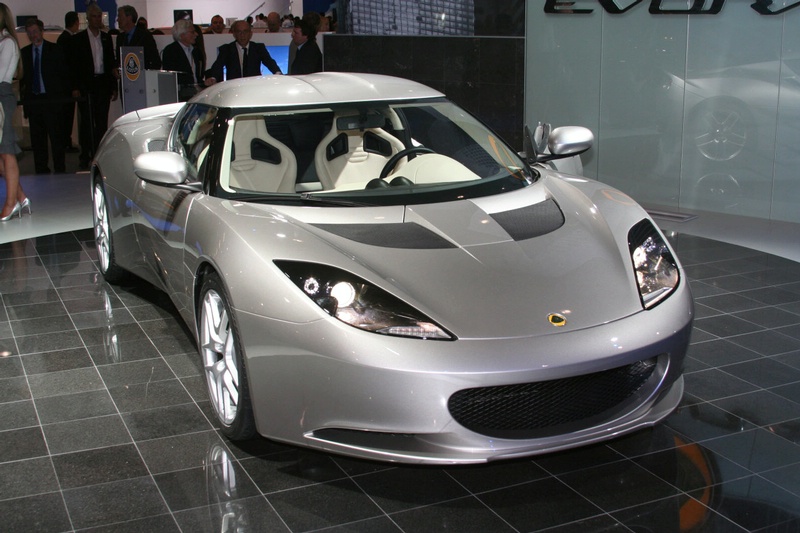 At the launch Lotus where bullish, talking of how the car had been developed in just 18 monthsCitation needed, and of projected sales figure of around 2,000 cars per year worldwide.
Platform Architecture
As with the Lotus Elise the Evora chassis is formed from bonded aluminium extrusions, a technique which Lotus pioneered with the Elise.
Unlike the Elise however the Evora chassis based around Lotus's VVA chassis architecture.3
This is built is made up of three separate sections, the central tub, the front and rear, which are then joined together (bolted?) to form the completed chassis.2 This not only eases repairs - in the Elise if the suspension pick points are damaged in a crash the whole chassis will often be written off, where as with the Evora the damaged section can be removed and replaced - but also saves time in the cars construction, with the sections able be built simultaneously before being joined together once all three are completed. This approach could also ease future developments where, for example, a new power train was to be utilised which necessitates a change to the rear of the car. In this case production of the front and centre sections could be carried out as per normal with rear sections being attached to meet demand and/or build schedules when the chassis was completed.
Evora Models
Evora
| | |
| --- | --- |
| Layout | Transverse mid engined, rear wheel drive |
| Length | 4342 mm |
| Width | 1848 mm |
| Height | 1223mm |
| Engine fuel | Petrol |
| Engine configuration | V6 |
| Engine capacity | 3456 cc |
| Engine power/torque | 280PS at 6400 rpm / 350Nm at 4600 rpm |
| Engine rev limit | 6400 rpm |
| 0-100 km/h | 5.1 seconds |
| Top speed | 162 mph / 261 kph |
| Emissions (CO2/km) | 199 |
| Weight | 1382kg |
| Seats | 2 (with option of 2+2) |
| Transmission | 6 speed manual |
| Drive | RWD |
Launch Edition
Naomi for Haiti Edition
Press reception
Evora S
Evora IPS
Concept Cars
Evora 414e
Mansory Evora
Future
References