Radiator
Jump to navigation
Jump to search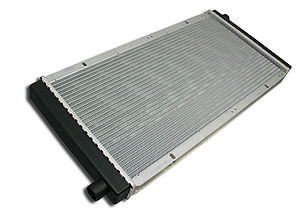 The standard OEM Elise radiator is another weak point in the cooling system. Although it is lightweight, it has plastic end tanks which are prone to expanding and leaking under pressure.
Unfortunately you need to Remove S2 front clamshell before you can replace the radiator.
A upgraded radiator is pretty advisable when going for Honda/Audi/Duratec engine upgrades. Most converted cars on the original radiators seem to blow them up pretty soon after conversion.

Leaks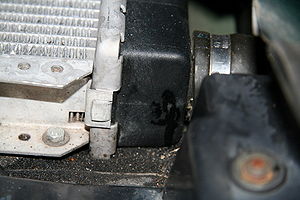 The most common fault with the OEM radiator is cracking/spliting of the plastic end tanks. The first signs of failure are drops of coolent on the windscreen, either drivers or passengers side, but castrophic failure of the end tanks has been known.

Quite often the passenger side hose is poorly connected (because it is difficult to do) and sometimes the bleed screw can leak.
The OEM radiators seem to have a problem with their manufacture where the main core is bonded to the top/bottom and leaks are all too common.
Indication of HGF
Its been suggested in the past that a blown radiator can indicate imminent HGF. The header tank cap is normally the first to vent when the system is pressurised since it only requires approximately 1 bar. The radiator is designed to operate at pressures a lot higher than this and the cap acts as a fuse. However, the header tank is on the lowest pressure point of the circuit and this allows high pressure peaks on the high pressure side (which is from the engine to the rad). need more thought here
Aftermarket Upgrades
There are basically three options available when it comes to after market radiators that will fit an Elise/Exige. All three are 'all aluminium' and none have the dreaded plastic end tanks. There appears to be only two manufacturers that are making these radiators. The 42mm single row is made by ??? and the 45mm twin row in single and triple pass is made by Pro Alloy. All on-line retailers sell the same radiators, they just badge them with different names to confuse you. Hopefully the following table will help when making your choice for purchase:
Seriously Lotus appear to be the only on-line retailer that sells anything remotely different. For example they have 50mm two row triple pass, 32mm one row single pass, 42mm one row triple pass. See website for details. Elise-shop don't do the Pro-Alloy triple pass. They have a 42mm (single or double?) row triple pass instead.
The following video will help you understand some of the terms used in radiator speak, like twin rows, dual cores, triple pass etc:
For comparison the OEM radiator is a 32mm single core, single pass. The triple pass radiators are only intended for motorsports and are not recommended for road use.
Pro alloy 45 2row 3pass.jpg

Pro Alloy 45mm core, twin row, triple pass
Pro Alloy is run by SELOC member Wayne Clayden.
OEM Radiator
The original equipment manufacturer was PMA Group. Typically the plastic endcaps can be expected to be good for 3 years