Difference between revisions of "Suspension upgrades"
Jump to navigation
Jump to search
 

Line 55:
Line 55:
 

   Front Dampers: E117.C.007H

 

   Front Dampers: E117.C.007H

 

   Rears Dampers: E117.D.009H  

 

   Rears Dampers: E117.D.009H  

−

 
−

See http://www.bell-colvill.co.uk/admin/lotusnews/PDFS/4489.pdf

 
 
 
 
 
---
Latest revision as of 13:55, 16 March 2018
S1 Elise Suspension Enhancement Kit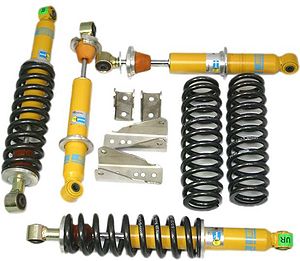 NOTE: Although the kit is an official Lotus upgrade, it is still classed as a modification for insurance purposes and should be disclosed. This was confirmed by Lotus Cars Technical Publications and Archives Department, 11/01/2011.
In order that owners of S1 Elise might enjoy the benefits of suspension development on the S2 model, a retrofit kit has been introduced which comprises Bilstein dampers and Eibach springs to provide enhanced ride comfort and refinement.

Parts Required Part Number Qty
Suspension Enhancement Kit A111C0148S 1

comprising:
Spring/damper assembly front A117C0052F 2
Spring/damper assembly rear C117D0038F 2
Bracket, rear damper to chassis A117D0077F 2
Spreader Plate, rear damper mount A111D0125F 2
Fitting Instructions LSL459 1
Changes
The front spring rate has been increased to 42.5 N/mm from 27.5 ('Mk.1') and 35 ('Mk.2').
The rear spring rate has been increased to 50 N/mm from 40 (as 'Mk.2').
The front spring abutment uses the lowermost groove in the damper body.
The rear spring abutment uses the uppermost groove in the damper body.
The mid-laden (2 x 75kg passengers plus half tank of fuel) ride height is lowered to 130/130mm from 140/140 front/rear.
The brackets securing the rear damper to the chassis are unique to this application to provide the correct mid-laden ride height (with other bracket variants, rear height would be too low).
The spreader plates were fitted as standard to S1 cars with barrel shaped springs, but not to parallel spring cars. The springs were changed from parallel to barrel at approx VIN W 3580 (June '98).
Apart from the mid-laden ride height, suspension geometry settings and steering rack shim plates are unchanged.
Individual Lotus Part Numbers are
 Front Dampers: E117.C.007H
 Rears Dampers: E117.D.009H 


Each damper is stamped with three codes, e.g.
 5000 BE3 6268T0

In this case indicating manufacture in the 3rd week of 2000, and it is a Rear damper (so says Bilstein tech support).
Front dampers end with 6269T0.
Elise S2 Bilstein damper collars
The upper and lower spring retaining collars on the Bilstein shocks, fitted to the S2 Elise, suffer badly from corrosion. The collars can be purchased separately which saves having to buy replacement shocks:
Damper collar replacement kit - Lotus Part Number: A120C6003S (1 kit required per damper - includes upper and lower spring retaining collar and a new circlip, that retains the upper collar) £15.77 +vat
The material composition of replacement collars include a silicone content but additional protection can be obtained using acf 50 (for floor pan corrosion)A117A0239S £11.71 +vat.
Bilstein Technical Centre U.K Unit 3 Swannington Road LE9 6TU Broughton Astley
Phone: 01455 283407 Fax: 01455 283301
Elise 111R Sport Suspension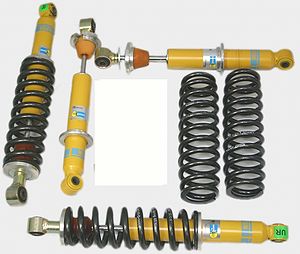 The suspension of the Elise 111R and Exige are similar, but the springs and dampers of the Exige are stiffened to match the Yokohama A048 tyres with wider front wheels, and provide a more sporting ride/handling balance. Owners of Elise 111R who wish to enjoy this type of characteristic can fit the Exige springs and dampers in conjunction with a vehicle set of Yokohama A048 tyres mounted on Exige wheels. The Exige front wheel size is increased in width over the 111R from 5.5J to 6.5J, and the front tyre section increases from 175/55 to 195/50. Rear wheel and tyre sizes remain unchanged at 7.5J and 215/45 respectively. Tyre pressures remain at 1.8 bar front, and 2.0 bar rear.

Wheel options are either:
Standard Exige cast alloy, 8-paired spoke, satin black painted, front 6.5J x 16, rear 7.5J x 17
or:
Lightweight forged alloy, 7-split spoke, satin silver painted, front 6.5J x 16, rear 7.5J x 17 Each forged front wheel saves 2.4 kg over the cast Exige wheel, with a 2.7 kg saving for each rear wheel.

Note that using the wider wheel set and Yokohama A048 tyres on an otherwise standard car will increase grip levels over the original specification, but in order to enjoy the full benefit of these tyres, it is strongly recommended that only a complete vehicle set of wheels/tyres/springs/dampers are fitted. It is also necessary to fit an edge finisher to the front wheelarches in order to maintain the legally required tread coverage when using the wider section front tyres.

Customers outside the U.K. should check the legality of this fitment with the appropriate authorities in their country of residence before purchase.

Part numbers are as follows:

Front Damper A122C0007H (2 required)
Front Spring A122C0008H (2 required)
Rear Damper A122D0008H (2 required)
Rear Spring A122D0006H (2 required)
S2 Spring Rates
Stock Elise suspension front: A116C0015H Eibach spring 200lb/in Rear: A120D0012H spring 285lb/in
LSS springs for Elise 05 (Federal): 220 F/ 314 R (ie +10%)
Stock Exige front: A122C008H 257lb/in Rear: A122D006H 371 lb/in
Exige track pack for Federal Exige (non returnable so much stiffer) 271 F/ 371
Nitron racing shocks
Makers of after market shock absorbers ideal for the many track orientated cars EG The Juno, the elise, exige, 340r from lotus, the new caparo T1, caterham and radical, claimed to give impressive results over OEM setups
NITRON shock absorbers combine outstanding performance with exquisite product design. Whether for road or track, on two wheels or four, NITRON have the suspension kit that offers fade free operation lap after lap.
The NTR has evolved from NITRONs fully adjustable race dampers, with developments being incorporated into the latest products. So as a result of the modular design, the top end components are included right throughout the Nitron range.
All NITRON shocks are gas monotube shim type with a high pressure gas charge. Couple this with a large piston area and an all alloy construction and you get an ultra low friction damper with excellent heat dissipation properties, ensuring total reliability and fade resistance.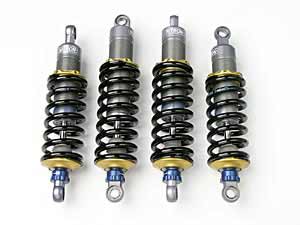 Ohlins