In Car Entertainment - Evora
Jump to navigation
Jump to search
This page aims to cover the Evoras In Car Entertainment system, revisions made to it over the course of the models life-cycle, and upgrade options.
It is, in its present state, far from conclusive, so please feel free to add or amend details.
Head-units
The head-unit fitted to Evoras varies depending on the age and specification of the car, with non-Tech Pack equipped cars originally fitted with the Alpine CDE-111R, later replaced by Alpine CDE-131R(CDE-102Ji for Japan, CDE-102 for USA) - a fairly standard single-DIN CD head-unit - while Tech Pack cars receive a double-DIN head-unit with touch-screen, satellite navigation, iPod dock and Bluetooth mobile phone connectivity integrated.
The standard fit Tech Pack head-unit for MY09-MY11 cars was either the Alpine IVA-W505R (VIE-X077 for Japan, IVA-W505R for USA) or Alpine IVA-W520R, depending if the sat nav unit is fixed or removable. This Alpine unit was often criticised for its cheap looks, fiddly interface and difficulty in syncing up phones via Bluetooth, and so for MY12 cars was replaced with the Pioneer AVIC-F930BT unit.
Standard
Alpine CDE-111RM
Standard fit Head-unit. Single DIN.

Euro: Alpine CDE-111RM
Japan: Alpine CDE-102Ji
USA: Alpine CDE-102

Tech Pack (MY09-11)
Pre-MY12 Tech Pack Head-unit
Double-DIN.

Removable: Alpine IVA-W505R
Fixed: Alpine IVA-W520R
Japan: Alpine VIE-X077

Alpine NVE-M300P
The Alpine system in pre-MY12 Tech Pack equipped cars uses the Alpine NVE-M300P Navigation Module, which is connected to the headunit to provide satellite navigation.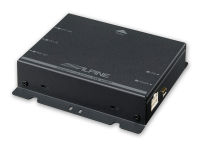 The module feature a mini-USB port which can be used with an adapter and memory stick to update the devices firmware and maps using the Naviextras Toolbox software. Full details on how to update these can be found on the Alpine NVE-M300P/RUE-M300 Firmware & Map Update page.
Alpine 400BT
Provides Bluetooth support for the Alpine headunits used in pre-MY12 Tech Pack equipped cars.
The firmware for this can be updated using a Bluetooth equipped PC, following the instructions on the Alpine website.
Alpine PXA-H100
Alpine 'Imprint' option, only available on pre-MY12 Tech Pack equipped cars.
Tech Pack (MY12)
Pioneer AVIC-F930BT
MY12 Tech Pack Head-unit
Double-DIN.

MY12: Pioneer AVIC-F930BT MY12 US: Pioneer AVIX-X930BT
Unlike the older Alpine unit the satellite navigation is contained with the F930BT headunit, rather than using an external module. The same GPS aerial is used as in pre-MY12 modules.
The AVIC-F930BT ships with Tele Atlas maps, however a firmware update can be purchased from NAVTEQ which updates the unit to the latest NAVTEQ 2012 European maps as well as updating the software to add features from the newer AVIC-F940BT headunit such as Advanced App mode.
Retro-fitting the AVIC-F930BT requires swapping the radio wiring harness for Part No. A132M0254F [1].
Tech Pack (MY13)
Alpine INE-W920R
MY13 Tech Pack Head-unit
Double-DIN.

Alpine INE-W920R
For MY13 (exact timing to be confirmed) Lotus reverted to an Alpine head-unit for Tech Pack equipped Evora. The Alpine INE-W920R can be fitted to older models with the use of a wiring harness adapter (Part No. A132M0326F) and should be compatible with the existing aerials and rear-view camera as fitted to older Alpine equipped cars[2], although a new microphone is required.
Evora 400
Alpine INE-W990BT
Evora 400 Standard Head-unit
Double-DIN.

Alpine INE-W990BT
With the Evora 400 the Tech Pack option was removed and a double DIN headunit was fitted as standard.
The Alpine INE-W990BT features a 6.1" touchscreen, with a 6.1" LCD, sat-nav (for UK/EU spec cars, 46 country Western and Eastern European maps), Bluetooth, USB port (iPhone connectivity or USB storage) and rear view camera.
Alpine INE-W710D
Evora 400 Optional Upgraded Head-unit
Double-DIN.

Alpine INE-W710D
Optional upgraded head-unit introduced for MY16.
Adds a larger 7" touchscreen, TomTom mapping data for the sat-nav, and wired Android Auto and Apple CarPlay support.
Alternatives
Pioneer SPH-DA100 AppRadio
Third-party Alternative
Double-DIN.

Pioneer SPH-DA100 AppRadio
A low cost double-DIN replacement headunit, the Pioneer SPH-DA100 AppRadio provides a screen with minimal basic functionality such as AM/FM tuning and a built-in rear-view camera input and relies on a compatible iOS or Android to provide functionality such as MP3 playback and sat-nav[3].
DAB Radio support
None of the Lotus fitted headunits for the Evora support DAB radio, however DAB radio support can be added using aftermarket devices such as the Alpine Ezi-DAB module.
Speakers
The Evora features a total of 4 speakers as standard, all mounted in front of the driver - this is the case regardless of whether the car is equipped with the Tech Pack, however this pack does add higher quality door speakers.
Main Speakers
The Evora main speakers are located lower front of the doors.
Standard cars are fitted with the Alpine LUK_SB01B speakers (2×45W High Power Amp, 6.25" coaxial 2-way speakers).
Tech Pack cars are fitted with Alpine LUK_WG01 speakers (2x50W amplifier, 6.25" coaxial 2-way speakers).
Tweeters
The Evora features a pair of Alpine tweeters (Part No. A132M0140F) mounted in the dashboard at the base of the A-pillars.
Sub-Woofer
(Tech Pack only)Fitted behind a panel below the B-pillar on the right hand side of the car, powered by an Alpine M-150 amplifier and wired to the rear channel on the headunit.
References
Useful Threads
YouTube - 2010 LOTUS EVORA AUDIO/STEREO UPGRADES
SELOC Forums » Chapman Arms » Evora build quality shock
LotusTalk - The Lotus Cars Community > Lotus Discussions > Lotus Evora > Evora Stereo System